Authorities believe a suspicious blaze that destroyed at least 15 homes in northern NSW this week may have been deliberately lit.
A special strike force has been formed to determine the cause of the fires in the rural hamlet of Rappville.
As of yesterday, assessment teams were still confirming how many properties had been lost or damaged in the blaze, which is believed to have started in the Busbys Flat area on Friday night.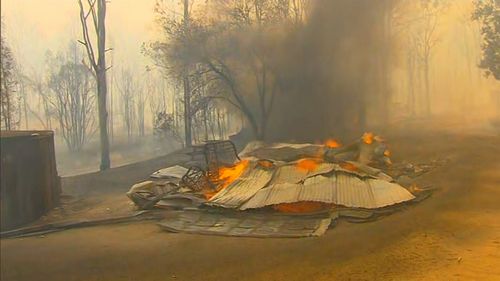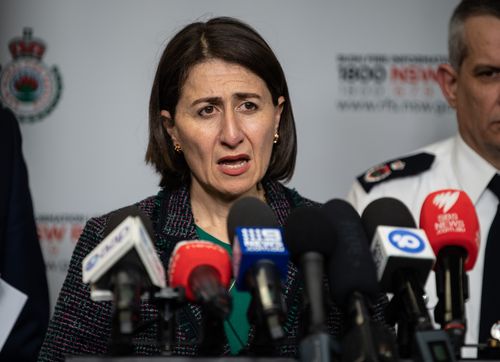 Emergency Services Minister David Elliott said it would be a "bastard act" if the fires were found to have been started by a firebug.
Resident Dave Greenop told 9News he saw his property on fire on TV news - but they were away in Lismore.
He was "devastated" at what he returned to yesterday.
The corrugated roof was completely collapsed and everything inside was gone.
Vehicles outside were also destroyed.
He said he was hoping his pets survived, including cats and a dog which was in a yard outside.
"I've just gotta hope I can find my dog," he said.
"I was hoping somebody might have got him out."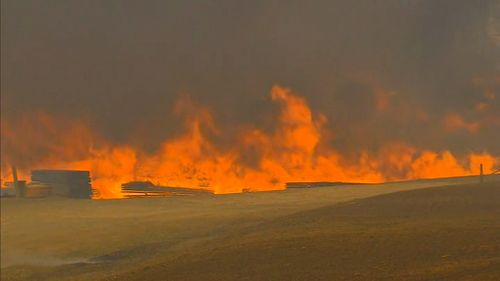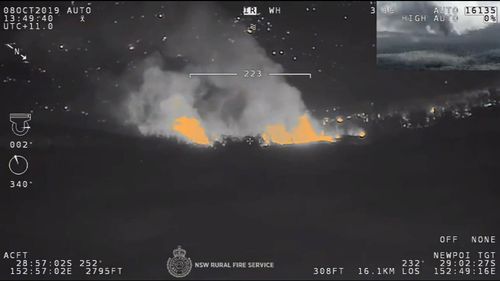 Neville Braithwaite said he had already counted 16 of his cattle dead, with others having to be put down.
He said the fire came "very quick".
Rural Fire Service deputy commissioner Rob Rogers said the Busbys Flat fire was merging with another at Drake near Tenterfield.
Initial assessments suggest 21 homes were destroyed in the Busbys Flat fire and Tuesday's breakout of the Drake fire, as well as two community facilities and 35 outbuildings.
Further buildings have been damaged, but the RFS says numbers will rise as more properties are inspected.
Transport Minister Andrew Constance tweeted that stretches of rail line had been damaged by fire, with the Rappville Rail Bridge destroyed.
Mr Rogers said several residents were treated for minor burns and breathing difficulties.
Some locals were still unaccounted for yesterday but authorities were working to get in touch with all residents who were forced to flee their properties.
The RFS says residents likely won't be able to return home for a number of days given trees are down across roads and power lines are on the ground.
Mr Rogers said cooler conditions were on the way for the area, which will assist crews greatly.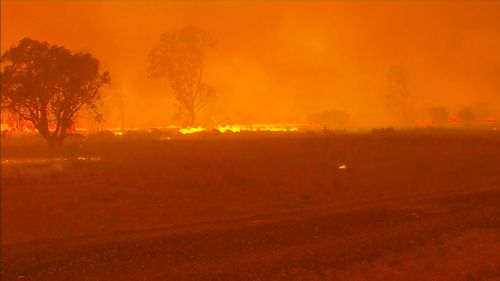 Slight reprieve for Queensland firefighters
Rains forecast for Queensland could give firefighters a reprieve from an onslaught of bushfires, hopes a regional mayor.
Lockyer Valley Mayor Tanya Milligan says the town of Laidley, 80 kilometres west of Brisbane, is counting its blessings despite fire having torn through about 10,000 hectares from Tuesday.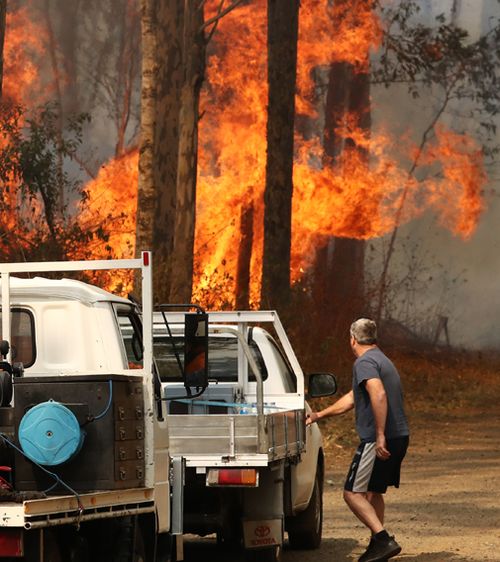 One home was destroyed by the bushfires whipped up by dry winds, however the fires came to the boundaries of a number of homes.
About 30 fires continued to burn across Queensland yesterday afternoon as emergency crews hope rains forecast for tomorrow and Saturday will offer a brief reprieve to the unprecedented start to bushfire season.
A number of infernos have broken out across the Queensland and NSW in the past month.
Showers and possible storms are forecast for southeast Queensland on tomorrow and Saturday.
"There's no substantial rain on the horizon for us, it's just drier and hotter, the rains would be a window of opportunity for people to stop and catch their breath," Cr Milligan said yesterday afternoon.
Premier Annastacia Palaszczuk warned people to make sure they are prepared for bushfires following the Laidley fires.
"The fire season will continue for many months," Ms Palaszczuk said.
At the peak of the fire danger on Tuesday some 120 evacuees were registered at the Laidley evacuation centre.
Fire warnings were issued for blazes west of Beaudesert and north of Ipswich yesterday afternoon.